The FLOWER POWER
When you are in love the first thing that you think of is giving flowers to your sweetheart. There is a deep connection between flowers and lovers. Every flower tenders a different message and every colour means something romantic. But our best flower is always rose. Though now-a-days both men and women send flowers to each other and there are no hard and fast rules on the variety of flower sent. But we have brought for you different types of flowers with the specific meaning attached to each, which you will find very interesting. And we have also brought for you information on our favourite flower rose.
1. 'Lemon Blossoms' means 'I promise to be true to you.'
2. 'Orange Blossoms' means 'You are pure and beautiful.'
3. 'Peach Blossoms' means 'I will be your forever'
4. 'Acacia' means 'You are made for me'
5. 'Zinnia' means 'I miss you very much'
6. 'Cactus' means 'My hearts burns with love for you'
7. 'Red Tulip' means 'I am madly in love with you'
8. 'Purple Lilac' means 'I am falling in love with you'
Rose:Rose is no doubt the most beautiful flower and thus our favourite. Rose denotes many meanings. It is ofcourse the flower of love, passion, giving and understanding but seen from the more realistic angle rose shows us the way of life. It shows how to stay beautiful and spread love and compassion while living on thorns. Thus the message that it spreads is always be happy and spread happiness even if you are going through a tough time.
The different colours of rose denote the following:
Red means passionate, sensual love.
White means innocence and pure spiritual love
Pink means friendship and the beginning of the love story.
Yellow means respect and gratitude.

Confused as to how many roses to give well read on.
1 denotes 'Love at first sight'.
2 denotes 'Mutual Feelings'.
3 denotes 'I Love You'.
7 denotes 'I'm madly in love with you'.
9 denotes 'We will be together as long as we live'.
10 denotes 'You are mine girl and you are lovely'.
11 denotes 'You are my princess and my treasured one'.
12 denotes 'Promise to be always by your side'
13 denotes 'We will be friends forever'.
15 denotes 'I'm really sorry...'
20 denotes 'I will be always faithful to you'
21 denotes 'I'm committed to you'
36 denotes 'I'll remember our romantic moments for as long as I live'
40 denotes 'I love you with all my heart'
99 denotes 'I'll love you till the day I die'
100 denotes 'I will never leave you'
101 denotes 'You are my one and only'
108 denotes 'Will you marry me?'
999 denotes 'My love will last till the end of time'
Related Links
Top
Flower Power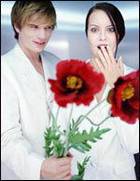 Site Search
Random Thought
Montyclearsighted
The Newest and most Entertaining Group . This is an open email group for all to share funnies via attachments or text. You will see lots a cool 'n cute pictures, cartoons, comics, photos, poetry, cars, bikes, planes, boats, nature scenes, landscapes, friendship cards, love, heart to heart messages and other funny stuff on this group. Click Here.
Jazbaat
This group for communicating friends, to share Cool Funny Pictures, Poetry, Politics, Computer, mobile stuff, Poems, Wallpapers, jokes, Celebrity stunts, Latest News, Laughing Stuff, Informative Articles, Model Mania, Heart Touching Stories, Fashion Accessories & Everything"
Click Here.
Dil-Apna-Punjabi
This group is for connecting all "Punjabi-Hearts" around the globe and yearn for Desi things, no matter in which part of the world they live in. Here is a platform for the lovers of "PUNJABI" culture, shayari, current affairs, news, views, fun stuff like jokes, movies, sports, music, etc.... . Here you have the chance to share your knowledge about our beautiful culture.
Click Here.
Laalkitab
This Group provide FREE HOROSCOPE ANALYSIS and REMEDIES on the basis LAL KITAB / LALKITAB / LAALKITAB, VEDIC ASTROLOGY and NUMEROLOGY.
Services provided are:-
Horoscope Analysis and Remedies, Remedies through Mantra, Gemstones, Dream Analysis, Spiritual healing, Future Predictions, Kundli Matching, Matchmaking, Zodiac Sign, Ascendant Sign, Birth Chart, Moon Sign, Astrology Lessons.
Click Here.