vaastu Index
Vaastu Index:-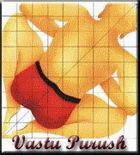 Vaastu shastra is an ancient science which helps one to get the natural benefits freely offered by the five basic elements of the universe in which we all live. These basic elements are Akash (SKY), Prithvi (EARTH), Paani (WATER), Agni (FIRE), and Vayu (WIND). Vastu Shastra can be applied by keeping in harmony with these basic five elements of nature. It is an edifice science that was developed by our learned people thousands of years ago. Its application today is purely architectural and its principles are based on becoming one with nature. Like astrology and palmistry it is a vast & complicated science, easily misunderstood by most people.

Most people all over the world will not think twice before spending huge amounts of cash on designing their houses and they should rightly do so. But when the house does not bring them peace and harmony and instead the ill effects of vaastu are experienced the same people consult astrologers, palmists, tarot card readers and some blame their destiny or luck.

Vaastu is essentially the art of correct settings one can place himself in such a manner as to derive maximum benefits.

The ancient relics say that Vaastu is based on two forces "positive" and "negative" which are constantly interacting with each other on the surface of the land. These forces should get disturbed whenever any structure is erected on a vacant land, to maintain a balance.

If there are more positive energies (forces) than the negative energies, the result of such a construction would yield more benefits to the inmates leading to a more successful, healthy, wealthy and peaceful life, contrary to this if the negative energies dominate the premises the effects could be negative.
Related Links
Top
Vaastu
Site Search
Random Thought
Montyclearsighted
The Newest and most Entertaining Group . This is an open email group for all to share funnies via attachments or text. You will see lots a cool 'n cute pictures, cartoons, comics, photos, poetry, cars, bikes, planes, boats, nature scenes, landscapes, friendship cards, love, heart to heart messages and other funny stuff on this group. Click Here.
Jazbaat
This group for communicating friends, to share Cool Funny Pictures, Poetry, Politics, Computer, mobile stuff, Poems, Wallpapers, jokes, Celebrity stunts, Latest News, Laughing Stuff, Informative Articles, Model Mania, Heart Touching Stories, Fashion Accessories & Everything"
Click Here.
Dil-Apna-Punjabi
This group is for connecting all "Punjabi-Hearts" around the globe and yearn for Desi things, no matter in which part of the world they live in. Here is a platform for the lovers of "PUNJABI" culture, shayari, current affairs, news, views, fun stuff like jokes, movies, sports, music, etc.... . Here you have the chance to share your knowledge about our beautiful culture.
Click Here.
Laalkitab
This Group provide FREE HOROSCOPE ANALYSIS and REMEDIES on the basis LAL KITAB / LALKITAB / LAALKITAB, VEDIC ASTROLOGY and NUMEROLOGY.
Services provided are:-
Horoscope Analysis and Remedies, Remedies through Mantra, Gemstones, Dream Analysis, Spiritual healing, Future Predictions, Kundli Matching, Matchmaking, Zodiac Sign, Ascendant Sign, Birth Chart, Moon Sign, Astrology Lessons.
Click Here.