Nature
Nature:-
Nature can bring a lot of beauty into our lives. Nature has a way of affecting our moods and it can force us to change our plans. Nature is responsible for the sun, clouds, rain, and snow. When it is sunny and bright outside, we feel cheerful inside. When it is cloudy and rainy, we often feel gloomy. When there is a beautiful and starry night, the moonlight makes us feel romantic.
When we see the leaves budding on a tree or when a timid flower pushes through the frozen ground, or when we smell the freshness of spring, new hope will always come to us. Nature is truly an intrinsic part of our lives.
When we wake and see a sunrise, when we walk and feel a breeze, when we gaze at the mountains and the splendor of the seas, when we see the earth renew its beauty at each season of the year, and when the stars shine at night, we should be so very thankful to the Lord for giving us all these wonderful and miraculous things. Learning to become more aware of nature can truly have a good effect on our lives in the way we look at things and in the way we feel about ourselves.
Click Here to go to Nature Wallpapers section.
Religious
Religious:-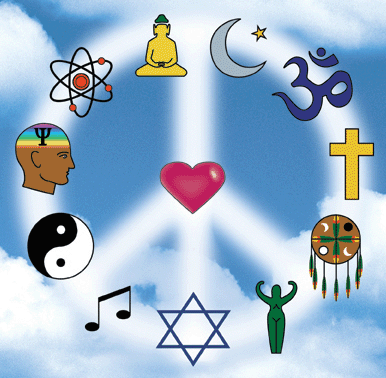 Religious belief usually relates to the existence, nature and worship of a deity or deities and divine involvement in the universe and human life. Alternately, it may also relate to values and practices transmitted by a spiritual leader. Unlike other belief systems, which may be passed on orally, religious belief tends to be codified in literate societies (religion in non-literate societies is still largely passed on orally ).
Religious beliefs are found in virtually every society throughout human history. Many native traditions held clowns and tricksters as essential to any contact with the sacred. People could not pray until they had laughed, because laughter opens and frees from rigid preconception. Humans had to have tricksters within the most sacred ceremonies for fear that they forget the sacred comes through upset, reversal, surprise. The trickster in most native traditions is essential to creation, to birth".
Click Here to go to Religious Wallpapers section.
Bollywood
Bollywood:-
Bollywood is the name given to the Mumbai-based Hindi-language film industry in India. When combined with other Indian film industries (Tamil, Telugu, Bengali, Malayalam, Kannada), it is considered to be the largest in the world in terms of number of films produced, and maybe also the number of tickets sold.

The term Bollywood was created by conflating Bombay (the city now called Mumbai) and Hollywood (the famous center of the United States film industry).

Bollywood films are usually musicals. Few movies are made without at least one song-and-dance number. Indian audiences expect full value for their money; they want songs and dances, love interest, comedy and dare-devil thrills, all mixed up in a three hour long extravaganza with intermission. Such movies are called masala movies, after the spice mixture masala. Like masala, these movies have everything.
Click Here to go to Bollywood Wallpapers section.
Hollywood
Hollywood:-
Hollywood is a district in Los Angeles, California, U.S.A., situated west-northwest of Downtown. Due to its fame and cultural identity as the historical center of movie studios and stars, the word "Hollywood" is often used as a metonym for the American film and television industry. Today much of the movie industry has dispersed into surrounding areas such as Burbank and the Westside, but significant ancillary industries (such as editing, effects, props, post-production, and lighting companies) remain in Hollywood.
Click Here to go to Hollywood Wallpapers section.
Desi Indian Babes
Click Here to go to Desi Indian Babes Wallpapers section.

Wall Index

Site Search
Random Thought
Montyclearsighted
The Newest and most Entertaining Group . This is an open email group for all to share funnies via attachments or text. You will see lots a cool 'n cute pictures, cartoons, comics, photos, poetry, cars, bikes, planes, boats, nature scenes, landscapes, friendship cards, love, heart to heart messages and other funny stuff on this group. Click Here.
Jazbaat
This group for communicating friends, to share Cool Funny Pictures, Poetry, Politics, Computer, mobile stuff, Poems, Wallpapers, jokes, Celebrity stunts, Latest News, Laughing Stuff, Informative Articles, Model Mania, Heart Touching Stories, Fashion Accessories & Everything"
Click Here.
Dil-Apna-Punjabi
This group is for connecting all "Punjabi-Hearts" around the globe and yearn for Desi things, no matter in which part of the world they live in. Here is a platform for the lovers of "PUNJABI" culture, shayari, current affairs, news, views, fun stuff like jokes, movies, sports, music, etc.... . Here you have the chance to share your knowledge about our beautiful culture.
Click Here.
Laalkitab
This Group provide FREE HOROSCOPE ANALYSIS and REMEDIES on the basis LAL KITAB / LALKITAB / LAALKITAB, VEDIC ASTROLOGY and NUMEROLOGY.
Services provided are:-
Horoscope Analysis and Remedies, Remedies through Mantra, Gemstones, Dream Analysis, Spiritual healing, Future Predictions, Kundli Matching, Matchmaking, Zodiac Sign, Ascendant Sign, Birth Chart, Moon Sign, Astrology Lessons.
Click Here.